Customer Support
Refurbishing

Diligently maintaining and refurbishing equipment will substantially increase the life of the cutting machine
The long life and high durability of our cutting machines is a source of pride, and we know that refurbishing, in addition to careful maintenance, will further extend machine life. While we do not handle all models of equipment, contact us first.
Consider a Refurbishment
When a machine you purchased many years ago no longer works the way you would like, consider a refurbishment first before you consider purchase of a new one.
Some causes of slow movement are scrap, load from many years of use, or deterioration of parts. Our refurbishment (disassembly and cleaning) may be able to not only recover the look of the machine at purchase, but the function as well.
Upon consultation, our technicians will determine whether we can refurbish your machine.
YAC DAStech has a Resale Division that specializes in the purchase and sale of used dicing saws, leveraging a wealth of experience and knowledge to support the life of cutting machines.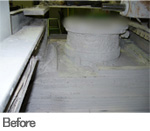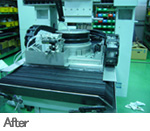 Eligible Products
In addition to YAC DAStech products, we refurbish some DISCO products for which we received the product rights when we split from DISCO Corporation.
●

DAS Series

DAS6I, DAS65I, DAS65M, DAS65P, DASW65M, DASW65P, DAS65N

●

Core drill machines

DAR8/88T

●

DAS110 Series

DAS110

●

Spinner washing machines

DCS6

●

DLS Series

DLS61/50RMS, DLS32/25RMS, DLS71/25

●

Others

DFS65N, DFS4D/1414, DFS4H/1818