Cutting Examples
Frozen cutting specification fixes easily, reduces damage

Cutting Digital Camera Lenses
with Uneven Surfaces
Challenge

Fixation for digital camera lenses and materials with uneven surfaces

Example

Cutting digital camera lenses with uneven surfaces!!
Simple fixation with the frozen specification reduces the load on both the material and operator.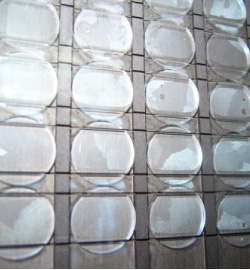 Lens fixation
In the past, there was a heavy burden of workload before and after machining and on the material...
A digital camera lens is one example. It should come as no surprise that fixation is difficult because the lens is not flat.
There are limited points on the lens that can be fixed. In the past, positions were determined and then fixed using wax or another fixative. Wax is a powerful fixative, but the process prior to and after machining is hard work.
The first step prior to using wax must be to warm it. Dangerous! Dirty! Smelly! Compounding these three issues, the wax was also hot (70 - 120°C). After cutting, the wax was similarly heated for removal. To avoid damage to the material, high-performance washing machines and solvents were also required.
The high burden of work load affected speed and cost as well.
In case of lenses and other such delicate materials, the large number of processes also tended to link directly to damage.
Frozen cutting makes work amazingly easy!
The frozen cutting specification developed by YAC DAStech offers exceptional workability that enables easy fixation.
The special adhesive liquid (Chuck Liquid CK10: an odorless, colorless transparent liquid) is applied at room temperature to the material (workpiece) and frozen at -15°C.
Once cut by the blade, the workpiece is immersed in warm water (at about room temperature) to remove the liquid, and is simply washed in the same warm water a few times. No special washing equipment is required.
No chemical solvents are used, so work load on the operator is also significantly reduced. The small number of man hours not only enables significant reduction of damage to the material, but increases speed and reduces costs.
■

Work process flow chart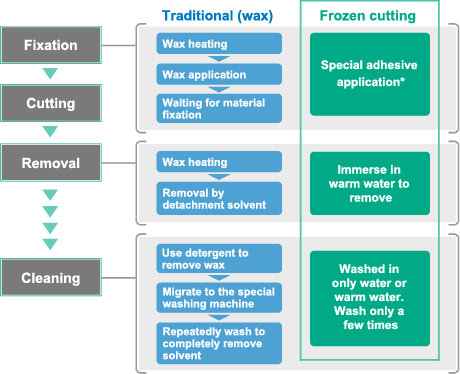 *Chuck Liquid CK10: an odorless, colorless transparent liquid
■

The Frozen Cutting Machine can cut various lenses and a variety of prisms

*YAC DAStech cutting machines other than the frozen cutting specification also provide solutions to numerous cases!
Click here for a list of cutting machines

Optical glass, ceramics, silica, sapphire, raw ceramic sheet, resin, glass epoxy board, crystal, magnetic materials, metals, ferrite, silicon nitride, zirconia, etc.