Cutting Examples
Frozen cutting doesn't need conventional adhesive

Cutting Porous Materials
that Cannot Use Adhesive
Challenge

I want to cut porous materials, but doing so compounds adhesive cleaning and other problems.

Example

Effortlessly cutting porous materials!
Removal and cleaning pose no problems with frozen cutting.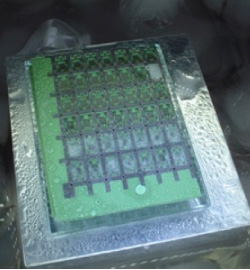 Raw ceramic
In the past, adhesive entering air holes was a problem.
Porous (porous body) materials are expected to have such properties, and are being used in various industrial fields.
But at the time of the cutting process, these porous properties are a bottleneck that troubles operators.
During cutting, tape or wax are essential for fixation purposes.
Secure fixation is key to cutting with a good yield, so strong adhesives are used.
After cutting, adhesive is removed and washed, but since the material is porous, adhesive gets into the fine holes.
To wash all of it requires increasing the temperature of the removal agent and cleaning agent, and increasing the number of cleanings.
Porous materials cause chemical reactions and significant damage to materials, which was a challenge.
Frozen cutting resolves it!
The Frozen Cutting Machine that YAC DAStech developed uses a special adhesive liquid (Chuck Liquid CK10: an odorless, colorless transparent liquid) as a freezing supplement that can simply be removed and cleaned after cutting with warm water alone.
The number of wash off times is also minimal. Frozen cutting is optimal for cutting of porous materials because no dedicated washing equipment or solvents are needed.
■

The Frozen Cutting Machine can cut various lenses and a variety of prisms

*YAC DAStech cutting machines other than the frozen cutting specification also provide solutions to numerous cases!
Click here for a list of cutting machines

-Ultra-thin -Distorted -Complex shape -Thick -Uneven -New material -Delicate -Soft