Cutting Machine Lineup
Shortening the flange length and function to support both ends enables high-precision, high-rigidity forming.
Features
1. Ideal movement achieved from grinding software developed based on cutting technology
2. Exquisitely control the machine with special software
3. Shortens the length of the blade flange. Support function for both ends in grinding further increases rigidity!
4. Servo motor is adopted for X axis, Y axis and Z axis.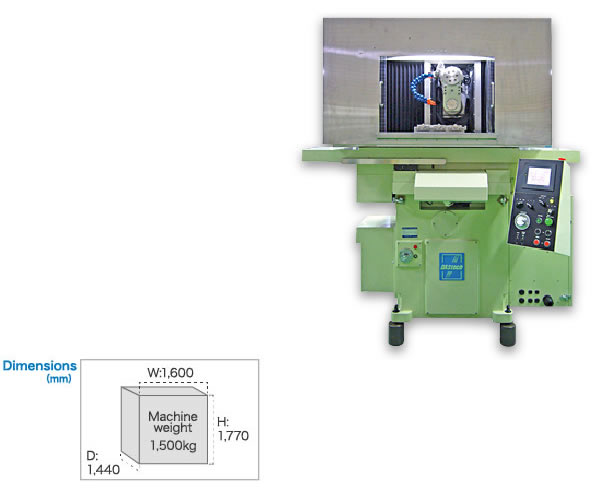 Suitable Materials
■ Maximum workpiece size: 350 mm x 80 mm
Shape

Suitable
products

・Optical glass
・PZT substrates
・Neodymium magnets
Type
Structural Advantages
Servo motor is adopted for X axis, Y axis and Z axis.
Y axis servo motor

Higher indexing accuracy by deploying servo motors to the X, Y and Z axes.
Operation panel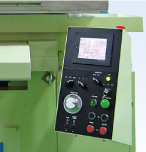 Right on the spot!
Positioning operations are easy!
Current values and displays are on easy-to-read LCD panels.
Simple display for ease of operation.
Standard Specifications
Forming Machines
DAS-W65F
Maximum workpiece size
Workpiece size
(mm)
350 x 80
X axis
Setting range for cutting speed
Drive source
Table top accuracy
X axis straightness
(mm/sec)

(mm)
(mm)

0.1 - 52
AC servo motor
0.01/350 x 80
Within the horizontal plane 0.01/350, within the vertical plane 0.01/350
Y axis
Effective stroke
Max travel speed
Drive source
Y axis index accuracy
(mm)
(mm/sec)

(mm)
80
10
AC servo motor
Accumulative error ±0.005/80, Repeatability ±0.002
Z axis
Effective stroke
Max travel speed
Drive source
Z axis index accuracy
(mm)
(mm/sec)

(mm)
100
Manual handle (0.5 mm/handle rotation)
30
Hydraulic cylinder
0.005
Spindle
Type
Maximum rotation speed
Rotation speed control
Drive motor specification
Blade dimensions


(rpm,MAX)
(kw)
(mm)
Mechanical ball bearings
8,000
Inverter
7.5 2P Low vibration motor
OD φ150 x ID φ40

Operation panel
LCD panel display

Data input


Manual pulser
Present position display, X axis speed display, load current display
X axis speed input, X axis cut position input, Z axis escape input
Spindle speed input
Movement of X/Y/Z axis

Support axis positioning method
Type
Positioning by special coupling
Clamp drive source
Drive source
Air cylinder
Machine size
Main body only
(mm)
1,600 (W) x 1,440 (D) x 1,770 (H)
Machine weight
Main body only
(kg)
1,500
*The specification of this machine may be changed for improvement without notice.
*Please contact our sales department for cutting application inquiries on this machine.