Corporate Profile
Company Overview

Let us be your expert manufacturer of cutting machines in the field of precision materials
We are a cutting machine manufacturer who can offer design, manufacture, sales and contract cutting services.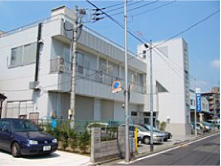 Company overview
■

Company name

YAC DAStech, Inc.

■

Established
2014.6.10

■

Main office
8-5, Bijogi 3-chome Toda City Saitama 335-0031, Japan

■

Capital
40 million yen

■

Directors
Chairman and Representative Director : Takefumi Momose
President and Representative Director : Shunji Yoshida
Board of Directors : Naoto Minagawa
Board of Directors : Teruaki Maehata
Board of Directors : Yukio Soejima
Auditor : Hiroshi Furuhashi

■

Business Description

1. Manufacture, sales, maintenance and service of cutting machines and sales of parts
2. Blade sales
3. Cutting services (electronic components and optical components)
4 . Used equipment purchase and sales
Authorized Reseller Number: Saitama Prefecture Public Safety Commission Permit No. 431020030998
Machine Tool Dealer
Administration of dicing saw refurbishing and sales station site

■

Bank of Account
Resona Bank Tachikawa Branch; Saitama Resona Bank Toda Branch
Main Customers (in Japanese syllabary order)
Alps Electric Co., Ltd.
NEC TOKIN Corporation
Olympus Corporation
KYOCERA Corporation
Sanken Electric Co., Ltd.
TDK Corporation
Nippon Sheet Glass Co., Ltd.
NGK INSULATORS, LTD.
Japan Broadcasting Corporation (NHK)
Hitachi Metals, Ltd.
Hitachi Corporation
Murata Manufacturing Co., Ltd., and others
Field service
When YAC DAStech split from its parent company, DISCO Corporation, it inherited commercial rights including the following product services. We began to offer field service in January 2002.
■

DAS/DAD Series

DAD-3M DAD-3M5 DAS-6I DAS-65I DAS-65M DAS-65P
 DAS-W65M DAS-W65P DAS-65N

■

DAS110 Series

DAS110

■

DLS Series

DLS-61/50RMS DLS-32/25RMS DLS-71/25

■

Core drill machines

DAR-8/88T

■

Spinner washing machines

DCS-6

■

Others

DFS65N  DFS4D/1414  DFS4H/1818