Cutting Machine Lineup
Best-seller model compatible with multi-gang blades of up to 200 mm width.
Better accuracy with function to support both ends and suppress vibration and deflection!
Features
1. High power spindle for multi-gang blades
2. Outstanding maintainability
3. Capable for setting various processing patterns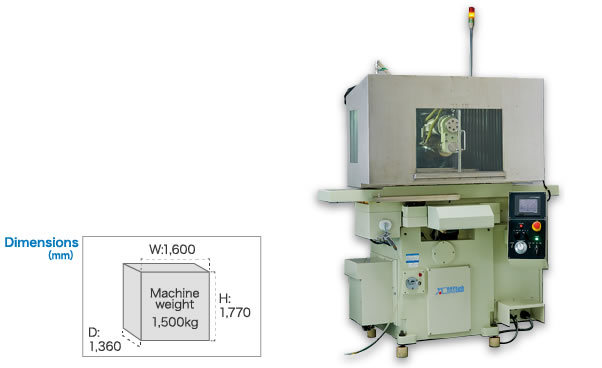 Suitable Materials
■ Maximum workpiece size: 200 mm x 200 mm
Shape

Suitable
products

・Smartphone cover glass
・PZT substrates
・Optical glass
Type
Structural Advantages
Each axis is controlled by servo motor
Both ends supported structure for multi gang blade

Tip of multi flange is restrained by bearing-supporting structure.
Achieves high precision cutting and grooving.
Standard Specifications
Slicing Machines
DAS-W65N
Chuck table size
(mm)
450 x 200
X axis
Effective stroke
Feed speed
Traverse speed
Drive source
(mm)
(mm/sec)
(mm/sec)
(kW)
500
0.1 - 100
0.1 - 100
AC servo motor 0.5
Y axis
Effective stroke
Traverse speed
Drive source
(mm)
(mm/sec)
(kW)
80
0.1~40
AC servo motor 0.5
Z axis
Effective stroke
Traverse speed
Drive source
(mm)
(mm/sec)
(kW)
100
0.1~20
AC servo motor 0.4
Spindle
Bearing type
Maximum speed
Rotation speed control
Drive motor specification
Blade OD

(min-1)
Mechanical bearing
8,000
Spindle inverter
7.5KW 2P low vibration motor
φ100 - φ150 inches (OD)
Operation panel
Touch panel
Showing the operation switch, cutting data, parameter setting, error messages, etc.
Accuracy
Table top accuracy
Yawing along X axis straightness
Z axis repeatability
Spindle rotation run out
(mm)
(mm)
(mm)
(mm)
0.02/450 x 200
0.01/500
±0.005
Radial direction 0.005
Utility
Power
Power consumption
Air pressure
Air consumption
Coolant consumption (MAX)
Cooler unit power consumption

(KVA)
(MPa)
(Nl/min)
(l/min)
(kVA)m)
3 phase 200 V 50/60 Hz
12
0.55
300
50
2
Machine size
(mm)
1,600 (W) x 1,360 (D) x 1,770 (H) (at stop)
Machine weight
(kg)
1,500
*The specification of this machine may be changed for improvement without notice.
*Please contact our sales department for cutting application inquiries on this machine.
Download Our Brochure