Cutting Machine Lineup
Improved type of our optimal model for precision machining of hard and brittle materials and metals.
High mechanical rigidity and precision cutting enable high-load cutting and grooving!
Features
1. Touch panel for better operability
2. Improved indexing with servo motor control
3. Improved rigidity of each machine part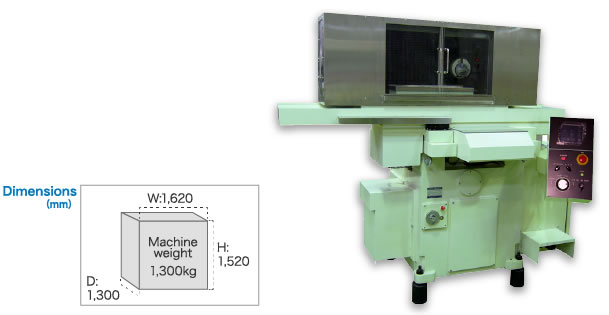 Suitable Materials
■ Maximum workpiece size: 450 mm x 150 mm
Shape
Type
Structural Advantages
Each axis is controlled by servo motor
Y axis servo motor

Higher indexing accuracy by deploying servo motors to the X, Y and Z axes.
Automatic alignment and operation panel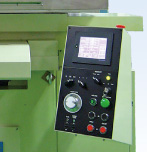 Right on the spot!
Easy positioning operation
Current position and parameters are on easy-to-read LCD panels.
Simple display for ease of operation.
Standard Specifications
Slicing Machines
DAS-65N
Chuck table dimension
(mm)
450×150
X axis
Effective stroke
Feed speed
Fast traverse speed
Drive system
Drive source
(mm)
(mm/sec)
(mm/sec)
500
0.1~80
80
Ball screw and timing belt
AC servo motor
Y axis
Effective stroke
Index step
Fast traverse speed
Drive system
Drive source
(mm)
(mm)
(mm/sec)
150
0.001
40
Ball screw
AC servo motor
Z axis
Effective stroke
Index step
Fast traverse speed
Drive system
Drive source
(mm)
(mm)
(mm/sec)
100
0.001
20
Ball screw and worm gear (1/20)
AC servo motor
Spindle
Bearing type
Maximum rotation speed
Rotation speed control method
Motor
Blade
Safety interlock

(min-1)
Belt drive, mechanical bearing
8,000
Continuous variable control (inverter)
3.7KW 2P low vibration motor
φ4" - φ6"
1.Spindle stops at the waterproof cover open.
2.Spindle will not rotate with cover unclosed.
3.Splash cover is locked during spindle rotation. (Option)
Operation panel
Touch panel
Showing the operation switch,
cutting data, parameter setting, error massages, etc.
Accuracy
Table top accuracy
Yawing along X axis straightness
Repeatability for Y axis
Repeatability for Z axis
Spindle rotation run out
(mm)
(mm)
(mm)
(mm)
(mm)
0.02
0.01/500
±0.005
±0.005
Radial direction 0.005
Utility
Power
Power consumption
Air source pressure (option)
Air consumption (option)

(KVA)
(MPa)
(Nl/min)
3 phase 200 V 50/60 Hz
8.0
0.55
60
Coolant supply unit
Coolant water pressure
Coolant consumption (Max)
(MPa)
(l/min)
0.3
30
Cooler unit
Power consumption (option)
(KVA)
2.0
Machine size
Main body only (excluding protrusions)
(mm)
1,620 (W) x 1,300 (D) x 1,520 (at stop)
Machine weight
Main body only
(kg)
1,300
*The specification of this machine may be changed for improvement without notice.
*Please contact our sales department for cutting application inquiries on this machine.
Download Our Brochure