Cutting Machine Lineup
Core Drill Machines

DAR810
Numerous highly precise round shapes cut in a single process!
Fully automatic machine is able to core faster and with higher efficiency.
Features
1. Cuts round shapes from flat plates
2. Concentric processing like a doughnut cut is also possible.
3. Optimal for many kinds of encoders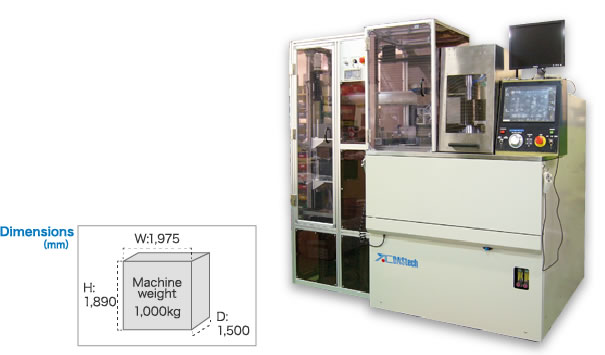 Suitable Materials
■ Maximum workpiece size: 200 mm x 200 mm
Shape

Suitable
products

・Servo motor encoders
・Silicon rectifiers
・Optical filters
・PZT substrates
Type

*Suitable for highly precise cutting of thick materials.
(Up to 30 mmt)
Structural Advantages
Core drill
・Cylindrical diamond blade turns at high speed
・Quick processing with less chipping
Glass processing sample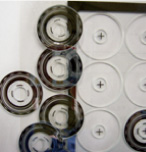 ・Concentric processing is realized by double blade use
・Applicable to ceramics, Si and various type of materials
Standard Specifications
Core Drill Machines
DAR810
Chuck table dimension
(mm)
200 x 200 (Movable range: 200 x 180)
X axis
Feed speed range
Index setting range
Drive source
(mm/sec)
(mm)
0.1 - 200
0.001 - 200
AC servo motor (Linear scale)
Y axis
Index setting range
Index speed
Drive source
(mm/sec)
(mm)
0.001 - 180
MAX 40
AC servo motor (Linear scale)
Z axis
Effective stroke
Cutting height setting range
Minimum index step
Max move speed
Processing speed
Drive source
(mm)
(mm)
(mm)
(mm/sec)
(mm/sec)
75
0.001 - 75
0.001
MAX 20
0.06 - 20
AC servo motor
θ axis
Rotation range
Minimum resolution
Drive source
(°)
(°)
110
360/2,621,440
DD motor (15 Nm)
Spindle
Type
Rotation speed range
Rotation control system
Motor
Core drill (Blade) size
Safety interlock

(min-1)

(kw)
(mm)
Direct drive, ball bearing spindle
2,000 - 12,000
Frequency conversion, no-step shifting type via inverter
2.2 2P
OD φ3.1 - φ80 x φ20 (shank diameter)
1.Spindle stops at the waterproof cover open.
2.Spindle will not rotate with cover unclosed.
Operation panel
Touch panel
Showing the operation switch, cutting data, parameter setting, error massages, etc.
Auto transferring system
Cassette to cassette, 2 cassettes loading
Accuracy
Table top accuracy
X axis index accuracy
Y axis index accuracy
Z axis index accuracy
Spindle rotation run out
θ axis index accuracy
(mm)
(mm)
(mm)
(mm)
(mm)
(")
0.02/200 x 200
Accumulative error ±0.01/200
Accumulative error ±0.01/180
Accumulative error ±0.01/75
Spindle radial run out
Accumulative error 25"/360°
Repeatability ±0.005
Repeatability ±0.005
Repeatability ±0.005
0.003
Utility
Power
Power consumption
Air source pressure
Air consumption

(KVA)
(MPa)
(l/min)
3 phase 200 V 50/60 Hz
8
0.55
Driving source: 200 (A.N.R)



Air shower: 1,440 (A.N.R)
Coolant supply unit
Coolant water pressure
Coolant consumption (MAX)
Power consumption
(MPa)
(l/min)
(kVA)
0.3
30
2 (cooler unit)
Spindle cooling unit
Cooling unit power consumption
(kVA)
0.8
Machine body size/weight
(mm)/(kg)
1,975 (W) x 1,500 (D) x 1,890 (H) / 1,000
Coolant unit dimensions/weight (option)
(mm)/(kg)
1,140 (W) x 960 (D) x 1,310 (H) / 120 (empty)
*The specification of this machine may be changed for improvement without notice.
*Please contact our sales department for cutting application inquiries on this machine.
Download Our Brochure