Cutting Examples
Frozen cutting specification enables cutting in layers!

Cutting 80 Micron Thin Glass
Challenge

I want to cut 80-micron and other thin glass efficiently.

Example

You can even cut glass of 80-micron thinness!
The frozen cutting specification allows cutting in layers so you can cut efficiently.
With conventional fixing, layered-cutting is difficult and inefficient ...
For example, to cut thin glass, layering the material and cutting in layers is the most efficient method.
However, in the case of thin and delicate materials, it is difficult to apply a load that exerts a downward force when stacked.
However, to cut efficiently with better yields requires more layers stacked up to securely fix them, and if wax is used to fix, a thin layer of wax must be adhered to every layer.
As a matter of fact, overlay adhesion is extremely difficult.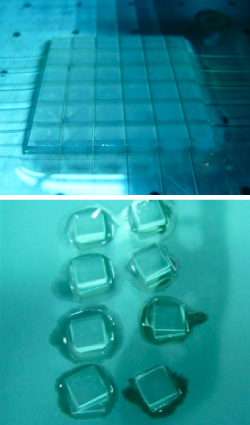 80 Micron Thin Glass
Frozen cutting specification makes cutting in layers possible!
The Frozen Cutting Machine that YAC DAStech developed applies a special adhesive liquid (Chuck Liquid CK10: an odorless, colorless transparent liquid) to the material (workpiece) at room temperature and freezes at -15°C.
Chuck Liquid CK10 is water-soluble, and extremely easy to use.
Superior wettability means you simply use an eyedropper to drop the chuck liquid onto the glass and a brush to spread it out.
Removal and cleaning also require warm water (at about room temperature) only; no special washing machine is required.
You can significantly reduce the load on the material and achieve better cut yields.
■

Frozen Cutting Machine can cut various lenses and a variety of prisms

*YAC DAStech cutting machines other than the frozen cutting specification also provide solutions to numerous cases!
Click here for a list of cutting machines