Cutting Examples
I want to cut thick glass using a thin blade!

Cutting Thick Glass Using a Thin Blade
Challenge

I want to minimize kerf loss of the material (workpiece)!
The problem of kerf loss caused by blade dicing
Slicing/dicing machines that use diamond blades are not only relatively inexpensive and offer exceptional operability, technological improvements enable these cutting machines to respond to a variety of needs. However, unlike laser dicing, kerf loss becomes a factor because these machines come into direct contact with the workpiece.
At YAC DAStech, we promote development of blade dicing technologies for our products that minimize kerf loss and reduce chipping.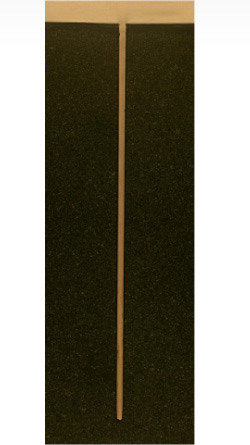 Cutting thick glass
using a thin blade.
Cutting example of
an 80 µmt blade at 4 mm depth
Developing cutting machines that can deploy thin blades
In order to alleviate kerf loss, it is necessary to know how thin it is and to select the optimum blade for the work.
Of course, you first need a machine able to make free use of a thin blade. Our company is a professional manufacturer of cutting machines and offers a broad line-up and we can tailor cutting machines to meet customer needs.
Even in fields of expertise such as software and operability issues, we leverage professional groups and networks each day to bring the cutting machines of our imagination into reality.
■

We also meet the challenge of the following materials (workpieces).

Click here for a list of cutting machines

Optical glass, ceramics, silica, sapphire, raw ceramic sheet, resin, glass epoxy board, crystal, magnetic materials, metals, ferrite, silicon nitride, zirconia, etc.