Cutting Machine Lineup
Slicing Machines < Frozen Fixed Cutting Specification >

DAS-65P
No need to use wax (adhesive) or tape to fix workpieces!
Solve bending, distortion and other cutting problems with freeze cutting!
Features
1. Fix an object instantly via the -15°C freeze fixation technology!
2. Chuck liquid is easy to use. and low-cost!
3. Easy clean up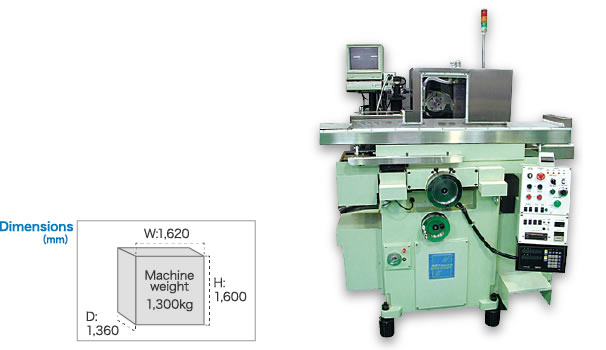 Suitable Materials
■ Maximum workpiece size: 300 mm x 150 mm
Shape
Type
Related Products
Chuck liquid
Fixes easily and closely

Gets soaked well and can be applied by brush.
Fixes closely at -15°C.
An easy-to-use fixative is removed after cutting simply by washing with water.
Standard Specifications
Slicing Machines < Frozen Fixed Cutting Specification >
DAS-65P
Maximum workpiece size
Workpiece size
(mm)
300 x 150
X axis
Effective stroke
X axis feed speed
X axis straightness
Table top accuracy
Drive source
(mm)
(mm/sec)
(mm)
(mm)
500
0.1 - 52
0.01/450
0.01/300 x 150
AC servo motor
Y axis
Effective stroke
Minimum index step
Index accuracy
Y axis index accuracy
Drive source
(mm)
(mm)
(mm)
(mm)
150
0.001
±0.01/150


Repeatability ±0.005 Indexing ±0.01/80
Pulse motor

Z axis
Effective stroke
Method to set blade height
Blade escape amount
Escape drive source
Repeatability
(mm)

(mm)

(mm)
100
Manual handle (0.5 mm/handle rotation)
30
Hydraulic cylinder
0.005
Spindle
Type
Maximum rotation speed
Motor specification
Blade dimensions


(rpm,MAX)
(kw)
(mm)
Mechanical ball bearings
8,000
3.7 2P Low vibration motor
OD φ80 - φ150 x ID φ40
(Please contact us for other dimensions.)
Operation panel
Push-button
Machine size
Main body only
(mm)
1,620 (W) x 1,360 (D) x 1,600 (H)
Machine weight
Main body only
(kg)
1,300
*The specification of this machine may be changed for improvement without notice.
*Please contact our sales department for cutting application inquiries on this machine.