Cutting Examples
Frozen fixed cutting even resists discoloration and damage

Cutting Special Materials
That Could Discolor
Challenge

I want to cut materials whose surface discolors easily without causing any damage

Example

Frozen fixed cutting is even suitable for special materials that could discolor!
Frozen cutting for zero damage and discoloration to the material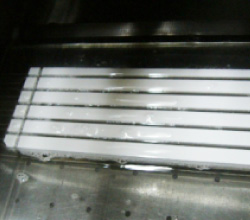 Avoid the risk of discoloration
When chemical reaction of the solvent is a problem
In a conventional cutting, wax is used to fix a material to a substrate, and after cutting, the wax is removed from the substrate. Next, solvent was used to for cleaning, but there were some materials for which the surface would discolor with certain types of solvent used for wax wash-off.
Cutting was a major challenge in the case of special materials, such as those to which wax could not adhere because it causes a chemical change in the material surface.
No use of solvent eases burden on the material
The frozen cutting specification that YAC DAStech developed delivers particular power in handling materials for which adhesive cannot be used.
Apply a special adhesive (Chuck Liquid CK 10: an odorless, transparent liquid) to the material (work) at room temperature and freeze at minus 15°C.
Once cut, the workpiece is immersed in warm water (at about room temperature) to remove the liquid, and is simply washed in the warm water a few times. No special washing machine is required.
No special solvent is used, which means you can be confident that there is no discoloration and damage of material.
■

The Frozen Cutting Machine can cut various lenses and a variety of prisms

*YAC DAStech cutting machines other than the frozen cutting specification also provide solutions to numerous cases!
Click here for a list of cutting machines

-Ultra-thin -Distorted -Complex shape -Thick -Uneven -New material -Delicate -Soft