Cutting Examples
Frozen cutting significantly increases yield

3 mm Prism Cutting
Challenge

I want to cut small, thin optical components with a good yield.

Example

Perfect for 3 mm prism cutting!
Frozen cutting can significantly increase yield.
Lenses, prisms and other optical components are delicate materials for which improving cutting yield has been a perennial challenge.
This is especially so in the case of ultra-tiny and ultra-thin hard-to-cut materials.
The key points to improving yield are in the following work processes.
1. During cutting
2. During waxing, fixing, removal and cleaning
YAC DAStech made cutting equipment with frozen cutting specification to resolve these challenges.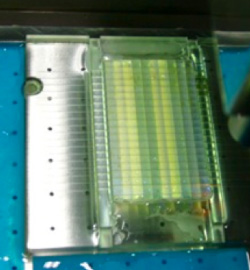 Triangular prism
Use frozen cutting to cut 3 mm prisms without breakage
To cut cleanly, quickly and efficiently, fixation technology is important in addition to blade performance.
YAC DAStech has developed "frozen fixation" as an alternative fixation technology without the use of conventional tape or wax.
Powerful fixation has been dramatically improving yield during cutting.
Reduced man hours, reduced burden for higher yields
If you reduce the load on a material, yield will, of course, improve.
Adhesion -> Fixation -> Cutting -> Removal -> Cleaning
In the processes above, even though frozen cutting uses a special adhesive liquid (Chuck Liquid CK10: an odorless, colorless transparent liquid), the liquid can be removed and cleaned with warm water alone!
Special removal agents, cleaning agents and special washing equipment are also not required, which dramatically reduces burden on the material and costs.
Chemical products are not used in this environmentally friendly specification.
■

The Frozen Cutting Machine can cut various lenses and a variety of prisms

*YAC DAStech cutting machines other than the frozen cutting specification also provide solutions to numerous cases!
Click here for a list of cutting machines