Current page : Home > Corporate Profile > Message from the President
Corporate Profile
Message from the President

We challenge developing cutting machines with value
YAC DAStech is a manufacturer of OD-blade cutting machines.
A material is only of value to people if given certain characteristics and formed into a certain shape delivered to the desired location within a certain time and offered at a fair price.
We will work resolutely to achieve these goals in our machinery, blades, applications and processing systems.
One example of this thinking is our development of Frozen Cutting Equipment with an emphasis on "fixation technologies". This development enabled us to meet the needs of materials (workpieces) that had been difficult to cut in the past.
Our role as an expert manufacturer offering entire process from planning and development to design, manufacturing and sales is to be "the last bastion of cutting" where all employees dedicate their effort to satisfy customers as they continuously hone their skill in technical development.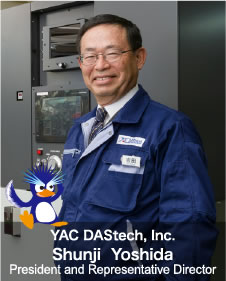 The DAStech Motto